Welcome to Attaway Services Carolina, Inc.
Attaway Services Carolina - Oil and Gas Electrical Contractors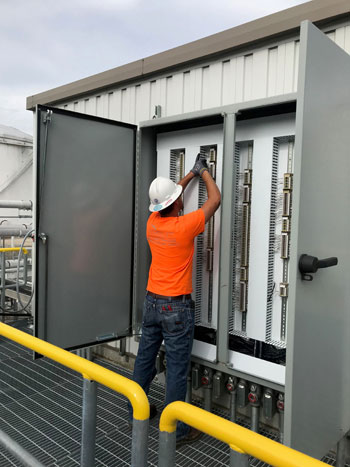 Attaway Services Carolina (ASC) is an electrical contracting company that specializes in providing the oil and gas industry with quality service and fair pricing. We also provide full service industrial electrical contract work for industrial manufacturing and storage facilities.

As oil and gas electrical contractors, we understand the importance of keeping customer deadlines. We work closely with our customers to ensure satisfaction. We do this by making sure everybody is on the same page with timelines and expectations before the project starts and then while checking in as the project progresses.

With more than 40 years in business, we've got a great deal of expertise and experience building and maintaining electrical systems. While we are based in the Carolinas, we've worked on projects all over the United States. We've taken on some very complex projects over the years, so if you've got a difficult job, you can be sure that ASC can handle it for you. We provide new construction, design build, troubleshooting, maintenance services, and more, including emergency service.

We particularly specialize in turn key projects, load rack automation and motor controls. For additional details on the services we provide, please visit our industrial electrical services page.

ASC seeks to stand out from other oil and gas electrical contractors through our fast turnaround times and the quality of our work. We really appreciate it when a customer chooses us for their project and we work to show that appreciation through exceptional customer service and high-quality results.

And of course, when you are dealing with electricity safety is incredibly important. We make sure that safety is our top priority - every day. Our in-depth safety program is designed to address any and all potential hazards and to help our employees understand how to mitigate them before performing the task at hand.

If you are ready to work with one of the top oil and gas electrical contractors in the United States, please contact us at 704-392-4616 or by completing the contact form.